Promotion 2018
Promotion 2017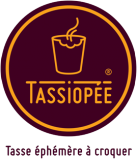 Tassiopée
Tassiopée is a French start-up that makes edible containers. The first range of products is based on the concept of a delicious and natural biscuit in the form of a cup, with an inside chocolate coating. The cup resists to heat and humidity and is perfect to serve hot drinks.
#SMARTFOOD #Gourmand #playful #environmentallyfriendly
Promotion 2016

Bloomizon
Bloomizon contributes to your daily well-being through a tailor-made vitamin program. Our algorithm calculates your personal nutritional needs according to your physiology, lifestyle, environment and diet. You are in great shape, healthier and have more organic energy every day.
#SmartFood #Nutrition #Vitamines #Bien-être #Application